Home Negative Ion Detox Foot Bath Machine Massage Roller
1. This ion ion detox foot bath machine with foot bath is very suitable for your home use, saving the cost of buying a professional foot bath. It is easy to use, you just need to press the on/off button on the control panel.


2. The negative hydrogen detox foot bath SPA machine has self-protection function. When the working current is reached, the machine will stop working by itself. This foot bath spa system will remove unwanted toxins and refresh your body and mind.


3. There are two rollers at the bottom of this foot therapy detox machine, and the feet can be in the massager during detoxification. The detoxification process is a wonderful experience, you can reduce the burden on the whole body by bathing your feet in warm water.


4. This foot spa system reacts to pure water without any side effects. The output voltage is DC 12V, which is safe and effective. All accessories are in the package, just connect and use! one year warranty! Free technical support! You can use it with confidence.


5. The color of the ion detox foot bath is white, which makes it easier to observe the color change of the water. The hard plastic shell with high-quality finish is durable. The purple part of the bathtub can be removed. You can easily put the bathtub lining on the bathtub.
Reasons of Detoxification

The health and life of the people lie on the volume of electricity in body. If a healthy person, he or she should be taken with 80% negative electricity (usually said negative ions) and 20% positive electricity (usually said positive ions). But the human body is like a giant magnet that attracts and holds onto toxins. Heavy metals, partially oxidized fats, dissimilated proteins, cholesterol deposits, uric acid, plaque, lactic acid and the vast array of chemicals that pervade our water, air and food attach themselves ionized form to joints, organs arteries, nerves and tissues. These toxins disrupt normal body functions creating an environment for disease, allergies, and immune system problems.


Ion generating technology has been around for several decades. It is this technology that is the secret to success in the Ion-Cleanse process by using an alternating positive and negative ion charge during the same treatment. This important discovery now makes it possible to remove unwanted toxic material from everyone regardless of the electrical charges the toxin may hold.

Ions are charged atoms that have gained or lost an electron, which causes them to set up a magnetic field capable of attracting and neutralizing oppositely charged particles and pulling them out of the body through a process called osmosis.

Osmosis is a scientific term used to describe the movement of particles through a cellular membrane from a higher concentration to a lower concentration. The lower concentration in this case refers to the ion field set up by the system in the water. Often times it is possible to reduce pain, swelling, edema and other symptoms caused by a long-term life style and a chronic toxic buildup in the body. The long term effectiveness of the detoxification process depends on the other life-enhancing and life style changes that the patient is willing to make.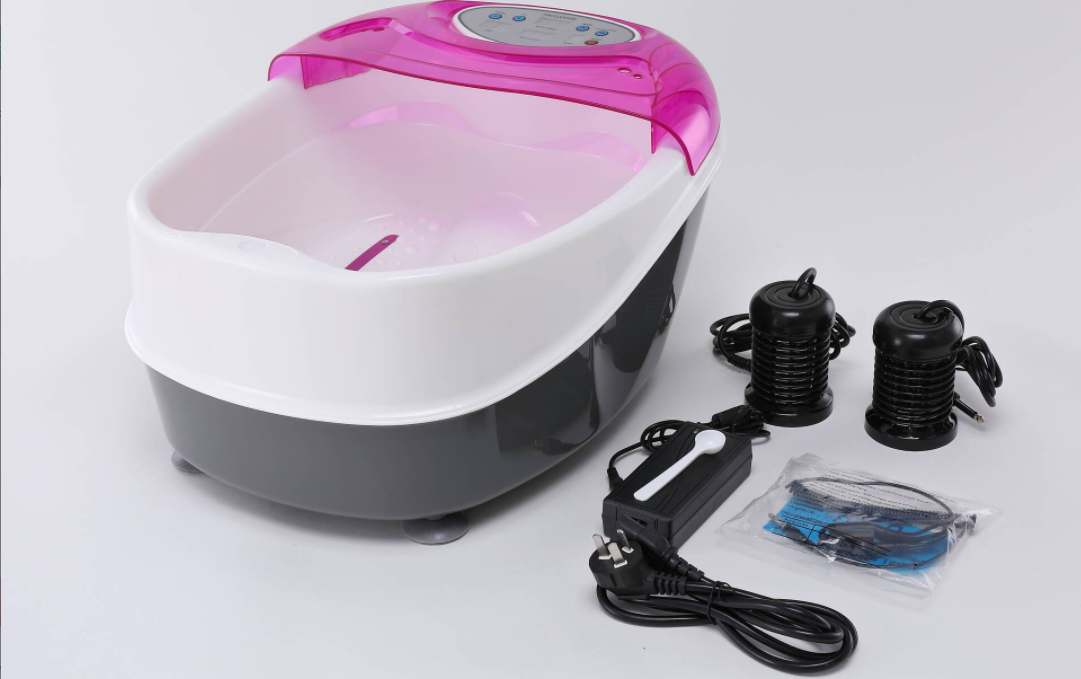 Why choose us

1. Competitive price ---- direct sales from the factory; design, mold opening, production, packaging, etc. are all done by ourselves, all in stock;

2. Good quality & guarantee---strict quality control and careful inspection before shipment.

3. Delivery on time---We attach great importance to all orders, and always try our best to deliver goods as soon as possible;

4. Perfect tracking service-we constantly update our customers with the latest product information and track the further development of all orders.