Ion Cleanse Detoxifier Foot Bath Machine
| | |
| --- | --- |
| Prdouct Name:Detox Foot Spa | Material:ABS,stainless steel |
| Brand Name:SDYFU | Function:Health Care |
| Application:Beasuty spa/shop,Salon,Home use,Gift... | Specification:American, British, Australian, European plug |
| Volage:110-220v~50Hz | OEM/ODE:YES |
Operation:
1. Place a PE bag in the foot tub and fill with warmwater.

2. Add 0.1g sodium salt into the water (spoon supplied in pack)

3. Fix the control unit to the foot tub.

4. Place the array in the center of the foot tub and connect to the control unit.

5. Connect the power supply to the control unit and plug into the main machine.

6. Put feet into foot tub, push Switch button on control panel.

7. The series of lights on the control panel illuminate during the work progresses. Each lightilluminates for 5 minutes, the treatment will last30 minutes.

8. A buzzer will sound intermittently at the end of 30 minutes and all the lights will flash four times toindicate work has finished.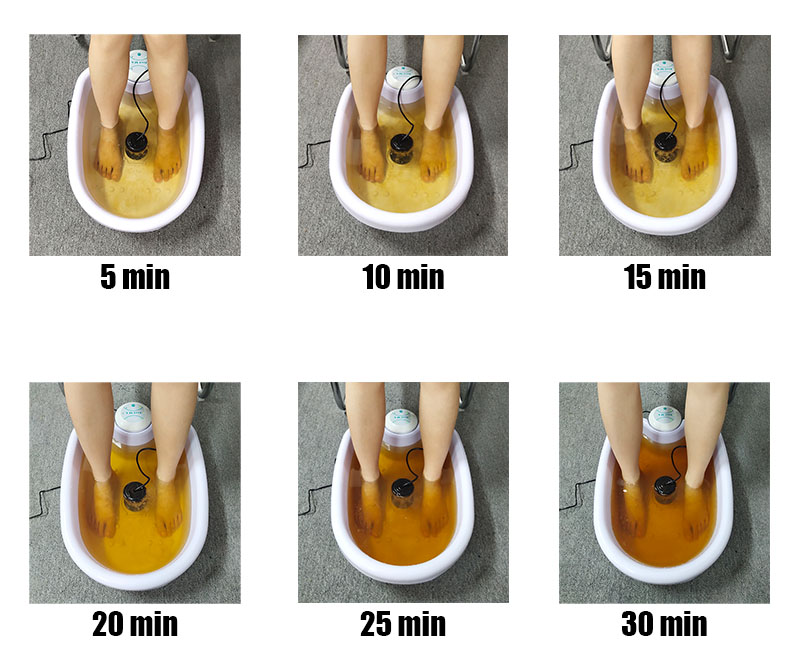 "Detox" principle:

Usually during the foot bath, the water changes color. Whether the water changes color or which color the water turns into does not determine the degree or benefits of detoxification. The water is charged to provide water energy for your body to absorb. The key to this amazing unit is that it provides energy to the human body and uses that energy to restore and balance the energy in the human cells. Once your body has absorbed this energy, the benefits of improved health and detoxification will begin.
Water has the closest perfect balance of positive ions and negative ions, and our body is composed of 70% water, which makes the interaction between our body and water extremely high. When the feet are immersed in water, the vibration frequency of the water will affect the vibration frequency of the body. This is due to the interaction of electric and magnetic fields.

Factory Tour