Detox lon Foot Spa Machine Cleanse Detoxifier Bath
| | |
| --- | --- |
| Product name:Foot spa | Model number:E817U |
| Power:24W | Voltage:100v-240v 50-60HZ |
| Certificate:CE | OEM/ODM:YES |
| Size:53.5cm*42.5cm*18cm | Packing size:4pcs/Ctn 66cm*43.5cm*54.5cm |
| Weight:2.5kg | Material:PP,PE,ABS |
Operating:
1. Put the plastic bag on the foot basin, pour the warm water.
2. Add 0.1 g of salt in water.
3. Place the ion head in the center of the foot basin and connect the main unit.
4. Connect the power supply to the host.
5. Put your feet into Plastic Basin, open the button in the control panel.
6. When the host is working, it will light up. Each lamp illuminates for 5 minutes and the treatment lasts for 30 minutes.
7. The buzzer will sound at the end of 30 minutes and all the lights will flash four times indicating that the job has been completed.
Use Color Variations
| | |
| --- | --- |
| Yellow-green | Detoxifying from the kidney,bladder,urinary tract,female prostate |
| Orange | Detoxifying from joints |
| Brown | Detoxifying liver,tobacco,cellular debris |
| Black | Detoxifying liver,gallbladder |
| Dark Green | Detoxifying gallbladder |
| white foma | Mucus from lymph |
| White Speckles | Mostly yeast |
| Black speckles | Heavy metale |
| Red Speckles | Blood clot material |
Every 5 minutes the color of the water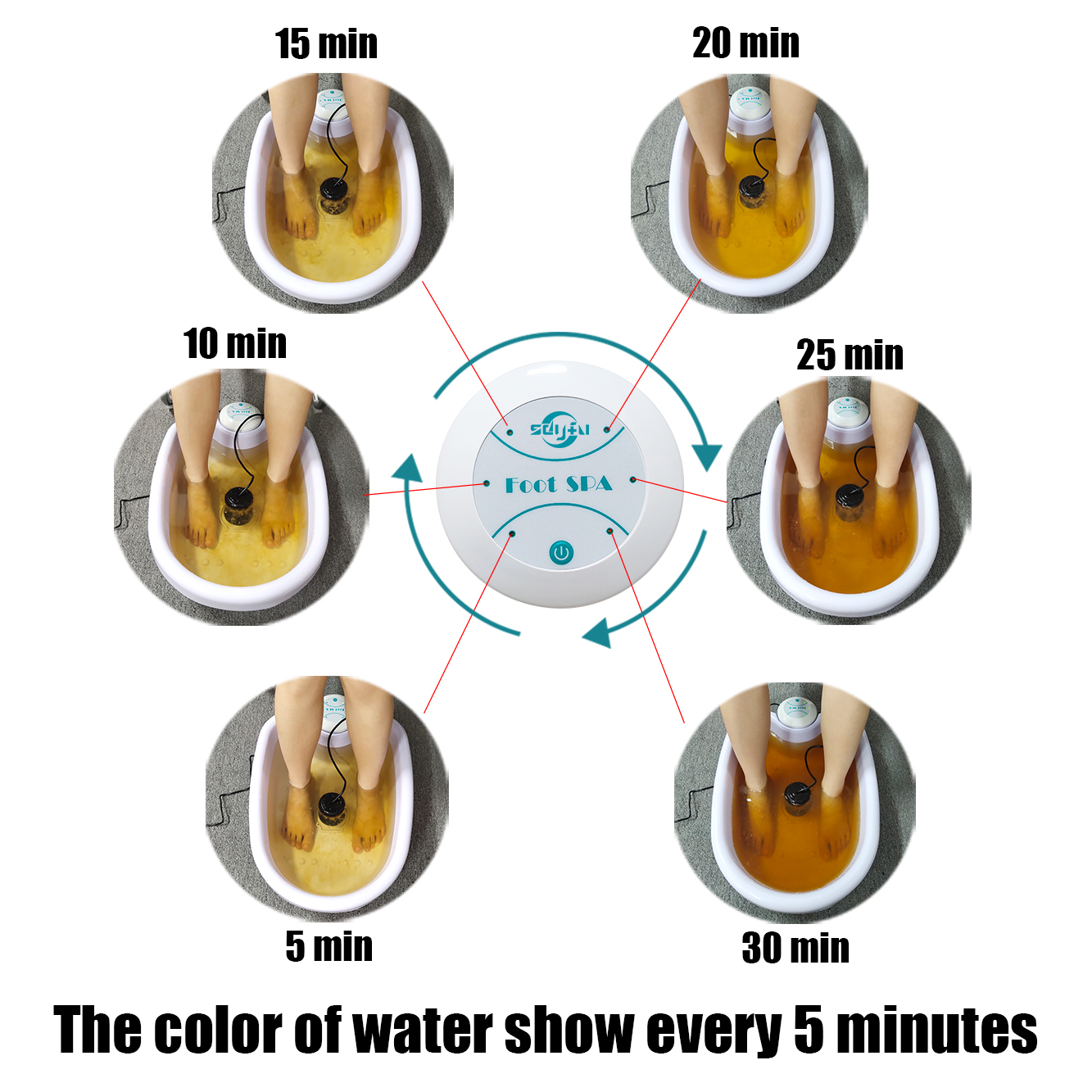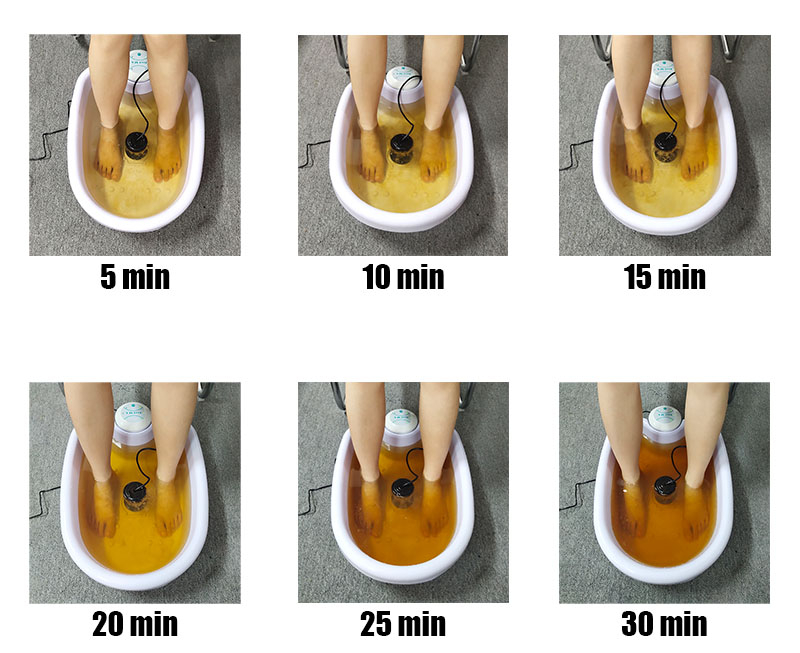 Product Working Principle
The Ion detox foot bath process is an amazing cleansing method for detoxifying your entire body by bathing your feet in warm water while using positive and negative ions from an ion generator—the array. The process is also known as electrolysis. The array element is the actual ion generator device that sits down into the water and creates the ion charge and flow within that solution. It attaches to the power supply, which controls the array element ion flow and change.
Included In The Packing