Ion cleanse detox foot spa machine
| | |
| --- | --- |
| Product name:Foot spa | Model number:E817U |
| Power:24W | Voltage:100v-240v 50-60HZ |
| Certificate:CE | OEM/ODM:YES |
| Size:51cm*40cm*15cm | Packing size:1/2/3/4pcs |
| Weight:2.5kg | Material:PP,PE,ABS |
The Benefits:
Pain relief

Increasing blood flow




Increases metabolism

Improves lymph circulation

Assists in reducing inflammation

Promotes healing of soft tissue injury

Increases the extensibility of collagen tissue

Stimulates hypothalamus which is involved with sleep, mood, pain.
Use Color Variations
| | |
| --- | --- |
| Yellow-green | Detoxifying from the kidney,bladder,urinary tract,female prostate |
| Orange | Detoxifying from joints |
| Brown | Detoxifying liver,tobacco,cellular debris |
| Black | Detoxifying liver,gallbladder |
| Dark Green | Detoxifying gallbladder |
| white foma | Mucus from lymph |
| White Speckles | Mostly yeast |
| Black speckles | Heavy metale |
| Red Speckles | Blood clot material |
Operation
1.Inject 15-17CM water into the foot bath, put 0.1 household salt,and mix well (The feet should be completely immersed in water, and the array should be immersed in 3/4 of the water, leaving 1/4 out of the water, otherwise the service life of the array will be shortened).

2.The instrument connects the array and the power cable,and starts the equipment by pressing the switch.


3.Mini round host Indicators will flash in sequence. Each indicator will flash for 5 minutes and detoxification lasts for 30 minutes at a time.
4. After 30 minutes of detoxification,the instrument will continue to ring for about 3 seconds. Six lights will be on at the same time,accompanied by a sound prompting to immerse in standby state.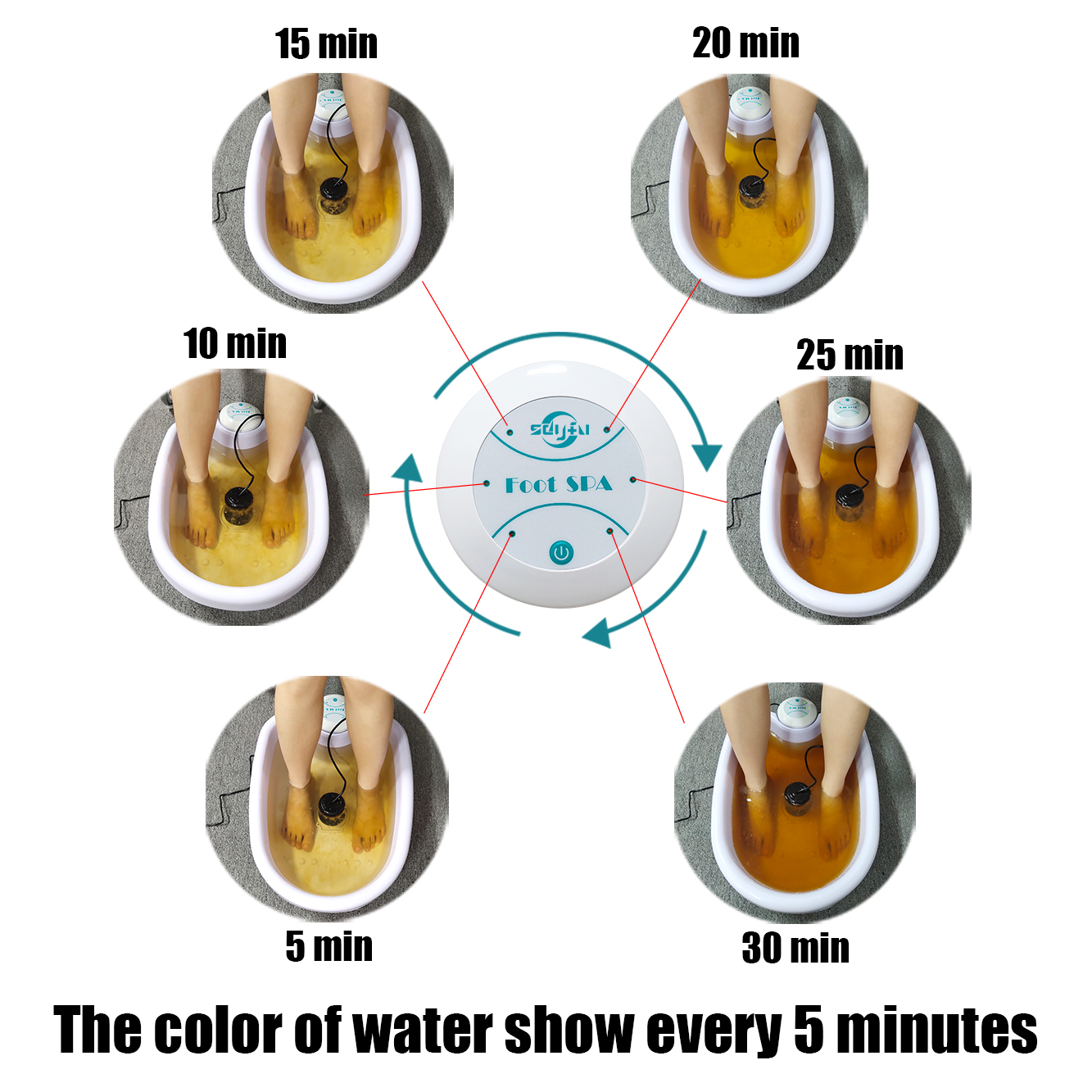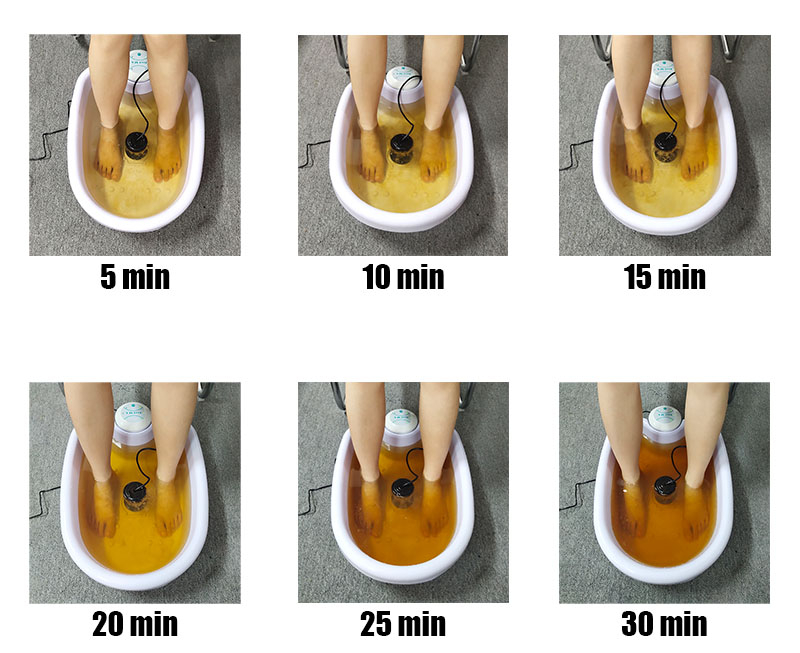 Product Working Principle
The hydrogen ions produced by the Sdyfu ionic detox machine are transported to the whole body through the circulatory system and lymphatic system, neutralizing the oppositely charged toxins in the cells that normally leave the body slowly. The body's organs become energized and stimulated, allowing the body to get rid of these toxins better.
Sdyfu detox machine uses both brass and stainless steel electrodes, which clean, balance and enhance bio-energy, a vital force present in the body's fluids. Detox machine is widely used to increase mental and physical energy and revitalizes, increases stamina while voiding the body of chemicals, pollution, radiation,synthetics, toxins and numerous amounts of foreign substances trapped in layers of the skin, Sdyfu detox machine's internal cleansing process includes parasite cleansing and liver detoxification that subsequently results in less fluid retention, reduction of inflammation, improved memory, improved bladder control, a more balanced pH, a stronger immune system and significant pain relief, inclusive of, but not limited to arthritis, gout and headaches.
About Us
1. Competitive price ---- direct sales from the factory; design, mold opening, production, packaging, etc. are all done by ourselves, all in stock;

2. Good quality & guarantee---strict quality control and careful inspection before shipment.

3. Delivery on time---We attach great importance to all orders, and always try our best to deliver goods as soon as possible;

4. Perfect tracking service-we constantly update our customers with the latest product information and track the further development of all orders.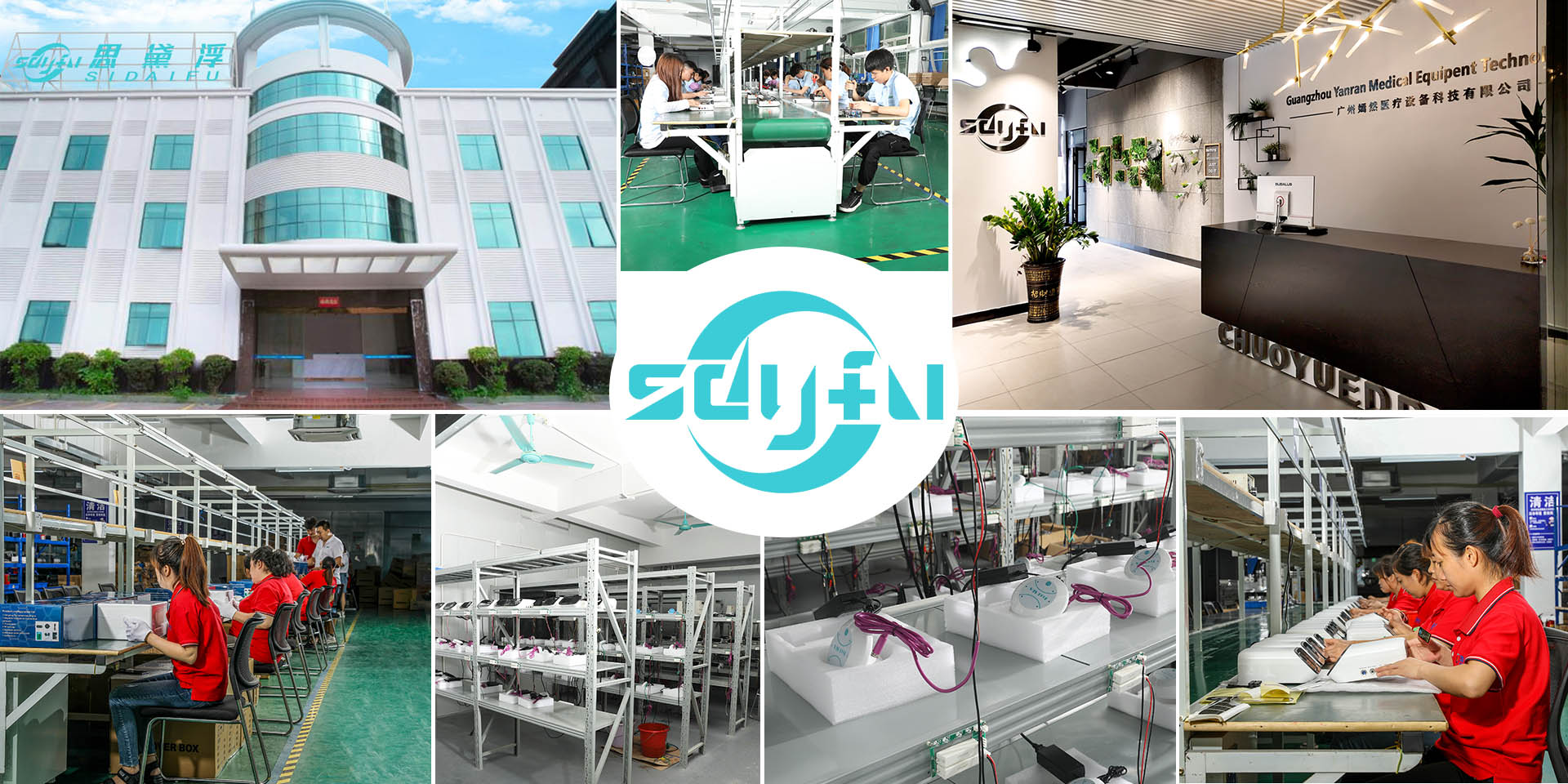 Other Popular Products