Ionic Detox Foot SPA Machine With Indicators Array
| | |
| --- | --- |
| Product name:Foot spa | Model number:E817U |
| Size:29cm*9cm*21.5cm | Packing size::27pcs/ctn 67*44*55cm |
| Power:24W | Voltage:100v-240v 50-60HZ |
| Weight:0.9kg | OEM/ODM:YES |
| Certificate:CE | Packing:Color box |
The Benefits:
Boost immune system
Remove heavy metals
Increase the vigor of cells
Improve the sleep effectively
Promote metabolism and blood circulation
Improve arranging poisonous ability oneself of the body
Use Color Variation
Yellow-green




Detoxifying from the kidney,bladder,urinary tract,female prostate

Orange




Detoxifying from joints

Brown

Detoxifying liver,tobacco,cellular debris

Black




Detoxifying liver,gallbladder

Dark Green




Detoxifying gallbladder

white foma




Mucus from lymph

White Speckle

s




Mostly yeast

Black speckles




Heavy metale

Red Speckles




Blood clot material
Features
1. Foot spas are an external detoxification method, which remove body toxins through the feet.
2. The body detoxifies while your feet are placed in a container with warm water and you remain comfortably seated.
3.non-toxic, no side effects, pure physical detoxification, quick effect, safer, the use of ion detoxifier is equivalent to a systematic cleaning of human cells, give cells a bath, fundamentally restore the human body's ability to detoxify itself.
4. Ion infiltration benefits include strengthening cell activity, improving metabolism and also helps with detoxification of the liver, reform dropsy, rheumatism and arthritis.
5. Dissolves fat expels through toxins and increases your immune system.
6. Stimulates brain cells, which helps with pressure, alleviates fatigue and increases better sleep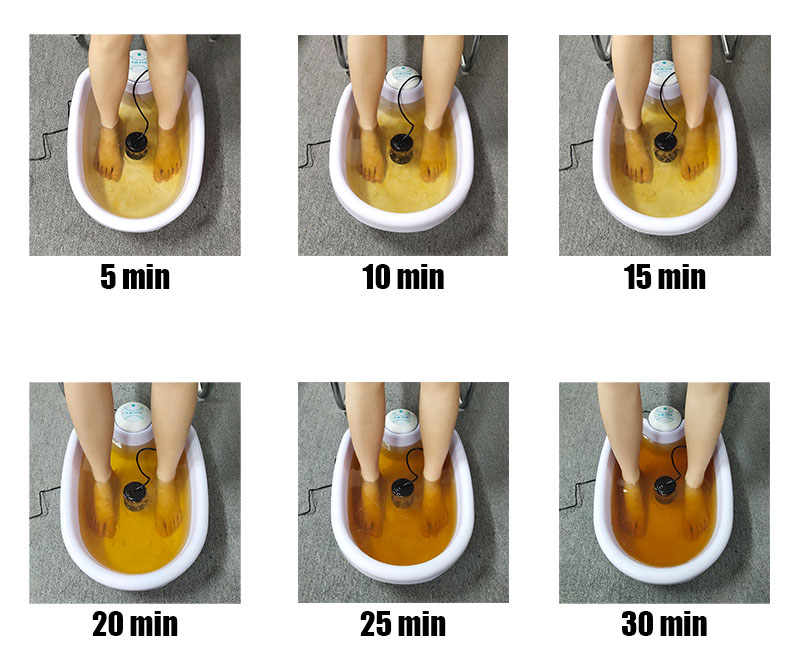 Product Working Principle
The array conducts direct current into the water and generates an ionic field that transfers into the body. The bubbles coming from the array indicate the ionic field is being created as the hydrogen and oxygen particles separate. Warm water allows feet to sweat, opening the pores, and allowing a greater absorption rate through the skin.
The principal is similar to how a magnet works. In this case, the magnetic force functions to help cancel out and eliminate harmful free radicals and other toxins from the body. This therapy uses an aqueous solution (water & sodium chloride in the form of sea salt) in a foot bath as a conduit for exchanging ions. The energy field created within the body draws negative and positive ions together, helping negate their harmful effect while gently stimulating cellular cleansing.
Included In The Packing