Co2 Fractional Vaginal Tightening Skin Rejuvenation Scar Removal Machine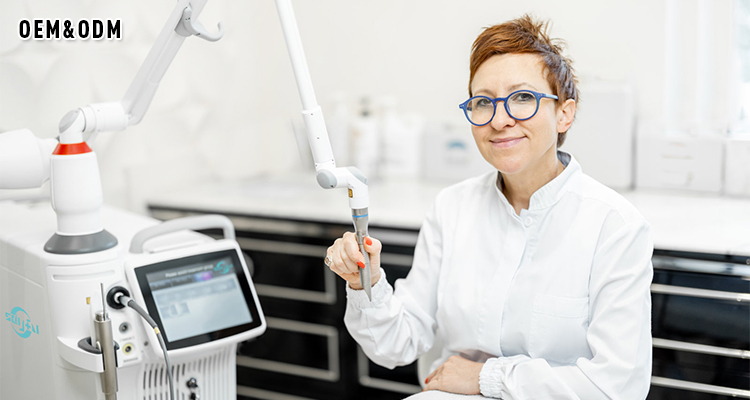 Product Parameters
| | |
| --- | --- |
| Product Name:CO2 private laser | Model Number:DZ-6 |
| Wavelength:10600nm | Number of scans: 1~20 th |
| Power:30w | Number of repetitions :1~20 per row/column |
| Scan graphics Circle、Triangle、Square、Rectangle、Hexagon、Straight line | Graphic area:1~20mm |
| Scan modes :Normal、Random、Equidistance | Distance:0.2~2.6ms |
| Output mode Continuous、Single、Pulse、Super Pulse | Interval :0~5s |
| Laser transmitter: RF laser transmitter, glass laser transmitter | Duration: 0.1 ~ 10ms |
| Cooling system: Closed Internal Circulating Water Cooling | Machine size:47*44*104cm |
| Screen size: 10.4-inch smart touch screen | Machine weight:37kg |
| Gross weight:58kg | Packing size:55*57*111cm |
What Is Fractional CO2 Laser?

Co2 Fractional Laser - The laser beam can penetrate through the epidermis and enter the dermis at a specific energy density. Since there is a good amount of absorption, the thermal energy produced by the tissue in the area where the laser is used to cut will cause columnar thermal degeneration of the area. All of the skin's layers are rebuilt concurrently with this process: the epidermis is exfoliated to some extent, new collagen is produced by the dermis, etc.
Based on this principle, Co2 Fractional Laser-Laser technology is also known as lattice laser and pixel laser. It is a revolutionary technology that converts the pixel mode of a conventional laser's emission mode. Unlike conventional lasers, pixel lasers alter the way that light emits, controlling the initially tiny laser beams through a scanner and a space lens matrix into even smaller laser beams that act on the skin to produce hundreds of thousands of laser beams.
Co2 Fractional Laser—Completely different from previous traumatic and non-ablative skin rejuvenation, the development and continued clinical use of this new technology allow us to avoid the issue of a lengthy recovery period and inadequate safety in traumatic treatment, as well as the issue of non-ablative skin rejuvenation.
Feature

1. Compared with traditional laser therapy, fractional laser has a wider range of clinical applications;

2. The skin repairs quickly and the effect lasts for a long time;

3. High energy and short pulse width precisely control the dual functions of epidermis and dermis;

4. Penetrate the dermis and start the collagen repair mechanism;

5. Act on the epidermis, immediately tighten the skin;

6.It can be used to treat acne marks, small wrinkles, skin aging, chloasma, coffee spots, large pores, dullness and other skin problems, especially for acne marks.
Packing:

Why Choose Us
⭐Competitive price --- direct sales from the factory; design, mold opening, production, packaging, etc. are all done by ourselves, all in stock.
⭐Good quality & guarantee---strict quality control and careful inspection before shipment.
⭐Delivery on time---We attach great importance to all orders, and always try our best to deliver goods as soon as possible;
⭐Perfect tracking service-we constantly update our customers with the latest product information and track the further development of all orders.
⭐Support OEM/ODM, welcome retailers and distributors to cooperate.