CO2 Fractional Laser Wrinkle Removal Machine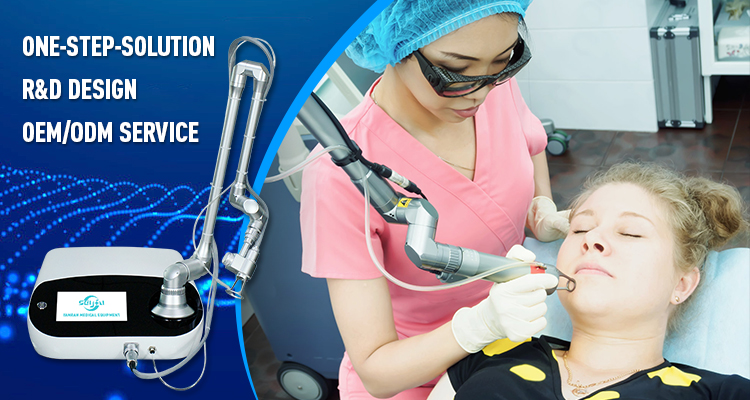 Product Parameters
Product Name:CO2 private laser

Model Number:BES

Wavelength:10600nm




Cooling system :Closed Internal Circulating Water Cooling

Power:60w

Duration: 0.1 ~ 10ms




Scan graphics Circle、Triangle、Square、Rectangle、Hexagon、Straight line




Scea scope:0.1~20mm




Scan modes :Normal、Random、Equidistance

Distance

:0.2-2.6mm

Output mode Continuous、Single、Pulse、Super Pulse

Interval :0~5s



Feature
The Carbon Dioxide (C02) Fractional Laser Resurfacing removes layers of skin tissue in a fractionated method (columns of skin are removed, leaving the skin surrounding each column intact to aid in healing) to help reduce "age-spots" (also called sun freckles, liver spots, and lentigines), fine lines, wrinkles, scarring, uneven coloration, skin laxity, textural irregularities, dull tone, and a thinned collagen layer of the face, neck, and chest.


Provides a revolutionary and precise painless solution for common female problems such as vaginal relaxation, vaginal environment disturbance, poor sensitivity, or accompanied by urinary incontinence: no anesthesia, no pain throughout the process, no pain During the vacation period, the treatment can be completed in 15 minutes, and the firming effect can be maintained for a long time. It is the most popular new body shaping project for women today
Packing:
Why Choose Us
⭐Competitive price --- direct sales from the factory; design, mold opening, production, packaging, etc. are all done by ourselves, all in stock.
⭐Good quality & guarantee---strict quality control and careful inspection before shipment.
⭐Delivery on time---We attach great importance to all orders, and always try our best to deliver goods as soon as possible;
⭐Perfect tracking service-we constantly update our customers with the latest product information and track the further development of all orders.
⭐Support OEM/ODM, welcome retailers and distributors to cooperate.