Hydrogen Molecule Cleansing Detox Foot Bath
| | |
| --- | --- |
| Product Name:Sdyfu Hengtong Instrument | Brand Name:SDYFU |
| Function:Anti-Oxidation,Health Care | Certification:CE,FCC,ROSH,UL |
| Working Voltage:230V~,50Hz | Power:60W |
| Foot bath mode: 4 types | Massage modes: 8 types |
| OEM/ODM:YES | Concentration of hydrogen molecules:2800-3500ppb |
What is hydrogen?
Hydrogen is the most superior and safest antioxidant. The reaction product is water, which has no side effects on the human body.

At the beginning of the 20th century, scientists have discovered that the main cause of human aging and disease is the toxic free radicals produced by oxidation. Toxic free radicals damage the cell membrane structure, protein molecular structure, ribonucleic acid genetic material, etc., which have a great destructive effect.

Hydrogen is the first element in the periodic table of chemical elements and the smallest atom in the universe. Hydrogen can enter the smallest unit cells of our human body through bathing, foot bathing, breathing, drinking and other ways to remove toxic free radicals produced by our body's metabolism.

One of the core elements of hydrogen water foot bath is Hydrogen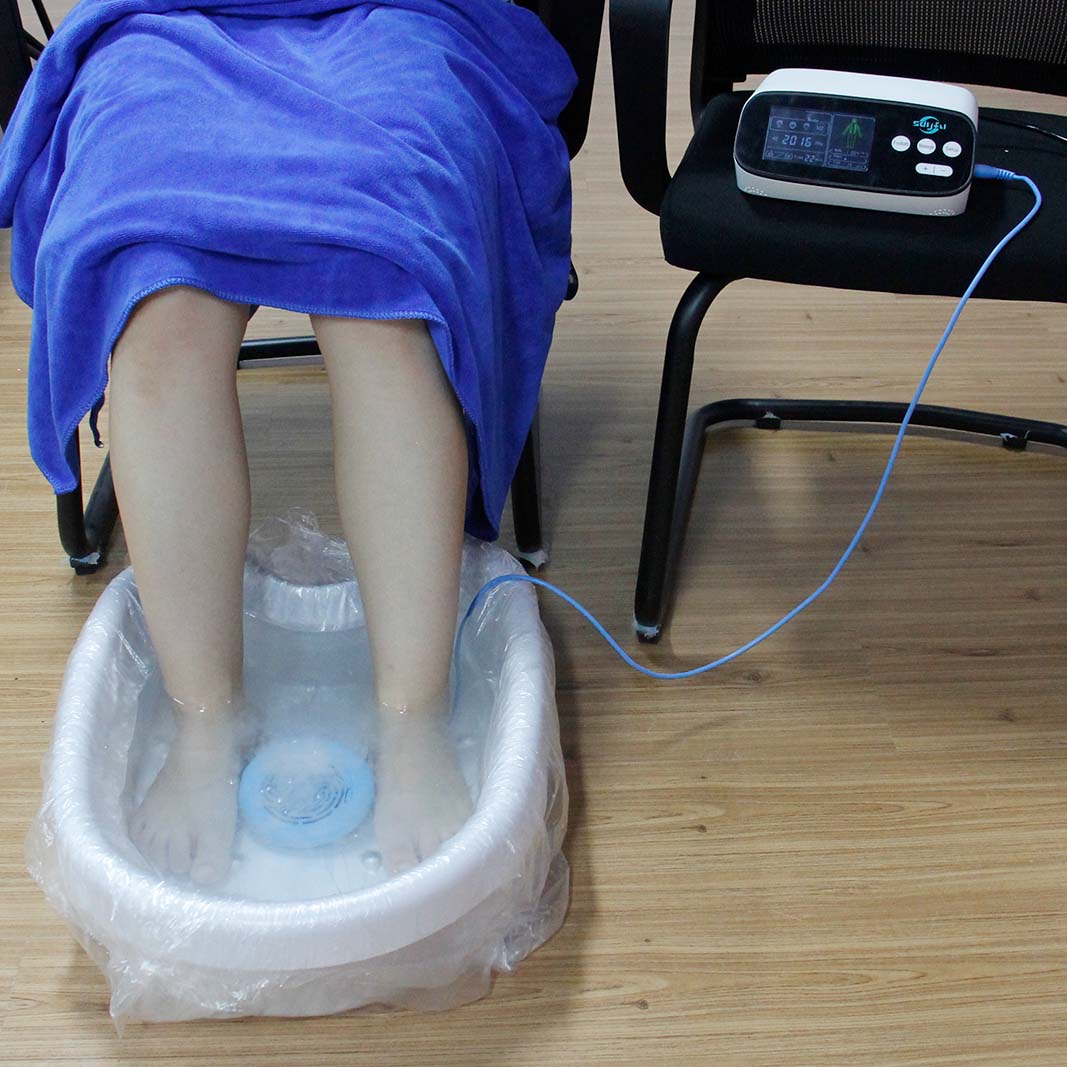 (bubbles are hydrogen molecules being produced during the operation of the instrument)
The Harm Of Free Radicals:
Free radicals are intermediate products of human metabolism and are widely present in the human body. Under normal circumstances, free radicals play an important role in human metabolism, cell signal transduction and gene regulation, inducing cell proliferation and apoptosis, maintaining the normal growth and development of the human body, and inhibiting bacteria, viruses and cancer. However, when the body undergoes disease or is affected by external environmental factors, and the balance of free radical production/clearance in the body is broken, free radicals will react with lipids, proteins and nucleic acids in the human body, thereby endangering health, such as environmental pollution and ultraviolet radiation. , Indoor and outdoor exhaust gas, smoking, drugs, radiation, strenuous exercise, stress, alcoholism, etc., all directly cause free radicals (active oxygen) in the body.
Benefits Of Hydrogen Molecular Foot Bath:

The most effective substance against free radicals is hydrogen molecules

Hydrogen is a molecule with important pharmacological effects. It can selectively antioxidant, prevent human cells from aging, improve cell metabolism in the human body, detoxify blood vessel walls, lower blood pressure, lower blood sugar, lower uric acid, gout, and rheumatoid. It has the effects of anti-inflammatory, beauty and weight loss, and treatment of more than 100 diseases.

Hydrogen has a reducing effect, giving electrons to substances that have been deprived of electrons by oxygen to restore them to their original good state. Hydrogen is the only selective antioxidant substance.

The hydrogen induction generator of Sdyfu Hydrogen Molecule Health Apparatus is mainly connected from the hydrogen production physiotherapy apparatus. The hydrogen molecules, negative ions and negative potential generated by the sensor generator are released in the water and act on the human body through foot massage or bathing. , To achieve the role of reducing body oxides.